Wednesday, 5 January 2005
Happy 2005
Hope everyone had a great holiday. Mine was great. Got a leather purse like I asked Santa for. :) The kids were spoiled as can be too.

Venus Press (www.venuspress.com) opened today and things are going well. I am happy to be apart of the VP family.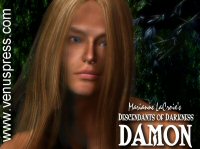 I made some brand new wallpapers featuring a few new covers of the werewolf series I have coming at Venus Press. I also made one of Warrior Lover featuring Brooks. Then I threw in a pic I did of how I see one of the Descendants of Darkness--Lucius. And finally, I included a wallpaper of the new cover for Damon, which won't be out until the end of the year. (I am taking a vampire break to write werewolves.) ANyway, here is the link for some new wallpapers: http://www.mariannelacroix.com/wallpapers.html
Friday, 17 December 2004
Descendants of Darkness is a RT Reviewer Choice nominee
Mood:
incredulous
DESCENDANTS OF DARKNESS, VOL. 1 is a RT reviewer Choice nominee for Best Erotic Novel of 2004! It is on a list of the best, including the great Beatrice Small! (I am most humbled by that fact alone!) The nominees will be listed in the upcoming RT magazine. Winners will be announced at the St. Louis convention. I am extremely honored by this nomination. Alonso, Lucius, Leonardo and Raife are also honored...

Wondering when the heck I am going to do a book signing? If you are in the North Florida area in early 2005, I will be at the House of Books in Tallahassee, Florida for a signing. Come and join the party. Details of date and time will be coming after the holidays. Thanks to all my local fans for asking about my books at the House of Books!

I will also be in St. Louis at the RT convention, and will be signing copies of my books at the book faire. So if you are planning on going, look for me and say hello!

THE NUTCRACKER PRINCE will be coming out this weekend (probably tomorrow), so look for this holiday treat at Amber Quill http://www.amberquill.com. It is part of the "Lights, Camera, Action" AmberPax. Look for an excerpt in the upcoming Moonlight Fantasy newsletter run by Lani Aames http://groups.yahoo.com/group/Moonlight_Fantasy/




Saturday, 11 December 2004
December is here...
Mood:
don't ask
..and with it, I have some new news.

DEEPER THAN DESIRE is out, an anthology of 4 stories, Moonight Rendezvous with a Vampire, Ante Up, Another Chance and Christmas Magic. Pick on up at Amber Quill or Amazon.com.

I have a new series starting in March 2005 called the WAY OF THE WOLF, a werewolf series featuring some sexy Vikings. This will be coming from Venus Press at www.venuspress.com. The first to the series will be ROLF, the first of three brothers to find his mate in a very unlikely place.

I had a few people asked me in the past how I came up with my pen name. So I will give a bit of insight. When I was in high school French class....oh many years ago...my teacher called me "Marianne". Many friends called me that as well and my real name was very similar. So, I went with that as part of my pen name. The second name, LaCroix, was taken from a book I read by my good friend Caitlyn Willows, called White Lies (an excellent novel available at AQP). Her hero was named Dom LaCroix. I thought it was perfect, and the pen name "Marianne LaCroix" was born.





Thursday, 25 November 2004
Happy Thanksgiving
I'd like to wish all the Americans on my newsletter a happy Thanksgiving day. Eat and be safe.

ANTE UP will be out in a few days over the weekend. So look for it about the 28th. For more, visit www.mariannelacroix.com

THE NUTCRACKER PRINCE will be out sometime in December. I just handed in edits on it, so it should be ready to go in no time. TO see more, visit www.ravynblackwood.com

DEEPER THAN DESIRE, a single author anthology in paperback is due out mid December and will include ANOTHER CHANCE, CHRISTMAS MAGIC, MOONLIGHT RENDEZVOUS WITH A VAMPIRE and ANTE UP.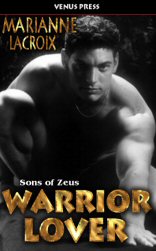 Then my next offering will be about March (A few months off for me in releases, but not writing). In March expect 2 offerings from me, WARRIOR LOVER, the book to launch the "Sons of Zeus" series at Venus Press. Check out the handsome cover model Brooks Johnson on the cover of the debut book at my website or at www.sonsofzeus.com Also, visit Brooks online at www.brooksjohnson.net

Then later in the month will be the first installment to my werewolf series, WAY OF THE WOLF: ROLF. Viking werewolves... More details to come about this trilogy of shapeshifters.

Once again, happy Thanksgiving!

Mari

Sunday, 3 October 2004
Cool tidbits
A fellow author friend and personal buddy, Lacey Savage, interviewed me recently, and the interview is now on her website! Check it out at http://www.laceysavage.com Also, join her newsletter for more about a special giveaway she is doing for LADY SHEBA!

I also have a feature this month at TRS Blue. Go and check it out at http://www.theromancestudio.com/blue/home.php If you are inclined to vote for me, please do! (Shameless, I know.)

Also, I was quoted by fellow AQP author Staci Layne Wilson (DARK LULLABY & GHOST WRITER) in her article in FERRETS USA, "Ferrets in the Movies". It is available around Oct 19th. Staci is our big time Hollywood reporter/journalist and is highly intelligent and "in the know" about practicaly anything. Check out her site too at http://www.staciwilson.com
Monday, 30 August 2004
Some news updates
I'm combining my blog for Ravyn and here. I simply can't manage so many blogs at once.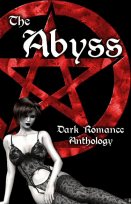 I was commissioned to create coverart for a dark romance anthology for www.dark-romance.com. I'm pleased that they asked and it is on display on their website. Actually, the woman in charge just loved the pentacle and goth woman in my logo, so I redid the compsition for her. I hope to add a short to the antho as well, a fallen angel story tentatively called "Dark Intents".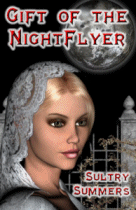 I was also asked to create a new cover image for my friend Sultry Summers and her first erotic novella, Gift of the Nightflyer. This is available at Swanbeauty Publications at www.swanbeautypublications.com.

I'm excited about September around the corner. It means a whole lot of things are coming. Writing as Ravyn Blackwood, Operation SpaceQuest: Episode I will start my space adventure serial. I'm excited and curious how people will like it.I personally love it. Dorian is my ultimate hero--brains, braun and a great sense of humor. To me, a man is to die for if he can make me laugh. The Jackal can definietly do that, among other things...

Then in my home life, we get a new living room. We are priming the walls at the moment. We should have our new couch and new carpet in by the end of the month. Yay!

Then, I'm taking a bit of detour and persuing digital art as a sideline. I am purchasing Poser 5 and planning on designing some more covers in the future. Well, after I play with it for a while. Don't worry folks, I'm still writing. Art is my way to relax. I actually plot while doing it.

No news on the Brava entry. Or at least, I'm not among the first four finalists. Oh well. There are weeks to go (2 a week), so there still is a chance. However, even if I don't final, I will finish up the novella I planned and send it in to them. Why not? I'm not one to be destroyed so easily. It goes with my saying, "Faith in thyself." If you write and hope to make it big (or even just get published), you have to believe in yourself.

Ok, I'm off to work on SPIRIT OF THE MOON a bit.


Wednesday, 25 August 2004
URL troubles
Apparently the server that hosts some of my domain names is having problems. People are going to my sites, but unable to get in. These will take you to where you want to go:

Descendants of Darkness

Ravyn Blackwood

Moon Goddesses

Sheba Productions
Saturday, 21 August 2004
LADY SHEBA is available, and some news
Topic: New releases


Lady Sheba
by Marianne LaCroix
ISBN: 1-59279-269-3 (Electronic)
Fantasy/Shapeshifter Erotica Novella
Rating: Graphic Sexual Content/Language

Kat Felinni is the descendant of the Egyptian priestesses of Bast and gifted with the Powers of the Cat. She uses those powers to become Lady Sheba, a shapeshifting super-heroine.

Unfortunately, her life is a lonely one, especially when she longs for her cool-mannered boss, Dr. Seth Malvoy, a curator at the N. Y. Metropolitan Museum of Art. Seth is secretly attracted to Kat, and just when he decides to follow his heart, a dark force turns his life around. Set, the evil Egyptian God of Chaos, has been trapped for centuries within The Eye of Horus, a gold vessel on loan to The Met from the Cairo Museum. Intrigued by its beauty, Seth examines it only for a secret compartment to open, releasing Set. Taking over Seth's body, Set plans his revenge for the centuries of entrapment. One force, however, stands in the way--Lady Sheba.........Find Out More at http://amberquill.com/LadySheba.html

At the Literary Nymphs website, LADY SHEBA is featured in the Passion Pages! Check it out at Literary Nymphs http://pages.ivillage.com/literarynymphs/ Yep, there's an excerpt too! You might want to look for that wise cracking cat, Nathaniel, while you are there as well.

I'm working on the sequel SANDS OF SEDUCTION and it will (hopefully) be coming out early 2005.
Saturday, 14 August 2004
Descendants of Darkness is now available in paperback!
Topic: New releases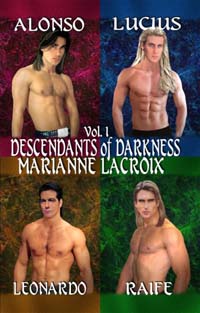 Descendants Of Darkness, Vol. I
by Marianne LaCroix
ISBN: 1-59279-866-7 (Paperback)
Vampire Anthology
Rating: Graphic Sexual Content/Language

They were Descendants of Darkness, vampires in New Orleans...And they searched for their life-mates...Only then could their hungers ever be sated....

Who doesn't love a sexy vampire, especially when one longs for the one special woman to awaken the passion and sate the desire for love and happiness? That was the initial premise for the Descendants of Darkness series, and readers have responded by making each installment to the series an electronic best-seller. Due to the overwhelming popularity of this series, these first four stories have been compiled into a trade paperback edition. Included are...Book I: Alonso, Book II: Lucius, Book III: Leonardo, and Book IV: Raife.........Find Out More at http://amberquill.com/Descendants1.html


Saturday, 17 July 2004
Deeper Than Desire antho/Mistress of Midnight
Mistress of Midnight is still #1 at Ebookad. I am totally amazed about that. And my good friend Isabella Jordan is #2 with her historical erotic romance, Woman in Chains. I read that one and really liked it. I have a feeling Isa is a talent that is destined for greatness.

Plans are in the works for my one author antho to include the following: The Haunting, Moonlight Rendezvous with a Vampire, Another Chance and Christmas Magic. I'm very excited about that. I've had so many requests for Moonlight to come out, so plan on it to be included in this antho. We may throw in Ante Up as well.

This is the thrid week for the Vampire Contest with Jeya Jenson, Tyler Blackwood and myself. Enter now. Search for the icons.
Newer | Latest | Older